Atheists Who Do Good Are Redeemed
The News is Abuzz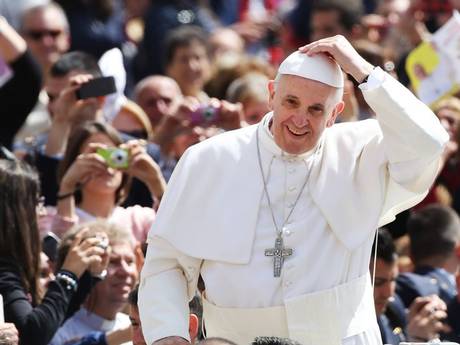 The news is abuzz with articles quoting Pope Francis' Wednesday homily, in which he said that everyone was redeemed through Jesus, including atheists:
Old News is Good News
This news is not really new, and is only news to those who have been mis-informed about the Catholic faith:
Old News: Catechism of the Catholic Church, paragraph 1260:
Every man who is ignorant of the Gospel of Christ and of his Church, but seeks the truth and does the will of God in accordance with his understanding of it, can be saved. It may be supposed that such persons would have desired Baptism explicitly if they had known its necessity.
Old News: Pope Benedict XVI, General Audience, November 30, 2005:
.
.
Pope Benedict quoted St. Augustine, saying that those who, prompted by love, strive for peace are predestined by God to be citizens of Jerusalem (to be saved).
.
.
Old News: Pope John Paul the Great, General Audience, September 9, 1998:
 Normally, "it will be in the sincere practice of what is good in their own religious traditions and by following the dictates of their own consciences that the members of other religions respond positively to God's invitation and receive salvation in Jesus Christ, even while they do not recognize of acknowledge him at their Saviour.
.
The Real News
The real news here is that most of the world misunderstands Catholicism, and we Catholics need to get the REAL message out, with love.
That was Pope Francis' point.
So What's the Point of Being Catholic?
.
If there is salvation outside the Catholic Church, and the Catholic Church has so many "difficult" rules some people don't want to follow, what's the point of becoming Catholic? After all, you can do whatever you want, and still be saved!
No, not really.  You have to do good to be saved, and to find peace. And defining and doing good on your own is like reinventing the wheel.  Possible, but not easy.
Despite the possibility of salvation outside the Catholic Church, salvation inside the Catholic Church is much easier.  That was Christ's point in coming to live among us, to teach us the ground rules and to leave us some help.
.When faced with a difficult and monumental task like getting through life, you can "wing it," or you can check the instruction manual.
Your choice.
Some accurate information on Catholicism:
Some  Catholic perspective articles
on this website:
The Catholic Church is the repository of grace and wisdom left to us by Jesus Christ.
The Catholic Church makes our job of attaining salvation (and of experiencing peace in this life) a LOT easier.
A billion people today have this figured out; Catholics.
They want to share the Good News: the New Evangelization
Good Reminder
This is a good reminder of the fact that all groups of people include good people.
And that Christian-hating atheists, like the Freedom From Religion Foundation (FFRF), are a minority, who represent only 0.1 %, or only 1 out of 1,000 atheists.
The vast majority of atheists are nice people who not only tolerate us Christians, but who even appreciate the more secular elements of our holidays, like Easter and Christmas.