Get Off Your Couch and Keep Wisconsin On Track-
It's SO Important to Vote Tomorrow!
Note (added Apr. 7m 2016): See April 5 Election Results at Battle of Wisconsin Results.
Note (added Mar. 19, 2016):
JoAnn Kloppenburg's supporters tried to smear Rebecca Bradley recently, digging up Justice Bradley's statements opposing abortion and gay issues a quarter century ago when she was 20 years old.
Although Rebecca Bradley's statements were overemotional back then, the fact remains that many Americans still oppose abortion and the redefinition of marriage, and Bradley was courageous in voicing her conservative views in college.
JoAnn Kloppenburg has no shortage of extreme views at the other, progressive end of the political spectrum:
 Even Madison's liberal newspapers the Wisconsin State Journal and the Capital Times acknowledge that JoAnn Kloppenburg  forfeits any claim to independence, engages in mudslinging, and MediaTrackers documents the fact that JoAnne Kloppenburg is a Biased Justice, Despite Non-Partisan Claims.
 Joanne Kloppenburg states on her website that she is aligned philosophically with U.S. Supreme Court Justices Sonya Sotomayor, who openly admits that she believes the court is where policy is made,  i.e. she plans to legislate from the bench, and Ruth Bader Ginsburg, who belongs to the liberal wing of the Supreme Court.
Kloppenburg has spoken in support of the radical executive director of Madison teacher's union, saying that she "couldn't miss gathering with some of the best people in Wisconsin to honor the most amazing John Matthews,"
 In her PBS debate last night, Kloppenburg stated that she had no party affiliations, while simultaneously making numerous snide references to Scott Walker.
 Kloppenburg's suporters have tried to smear previous opponent Justice Prosser in her 2011 contest with him, when she refused to refute her supporters' accusations even when faced with contradicting evidence at a debate.
Kloppenburg is an off-the-deep-end radical, and you should not vote for her unless you are enjoying the present fallout we are suffering from radical progressive agendas both in Madison and nationwide.  If you vote for JoAnne Kloppenburg, you are voting for a Judge who considers herself above the law.
Rebecca Bradley, on the other hand, respects the (conservative) value of respecting and following the law, not legislating from the bench, leaving legislation to the legislative branch, and refusing to us smear campaigns such as those her opponent supports.
Note (added Feb. 17, 2016): Thanks for Voting

!
Rebecca Bradley came in first in the Feb 16 Primary yesterday (Martin Joseph Donald was eliminated).
Stay vigilant and vote again on April 5, 2016, when Wisconsin will be making a final choice between Rebecca Bradley (conservative) and JoAnn Kloppenburg (liberal).
The Background
Much of the liberalization of our contemporary culture has been accomplished by liberal judges at various levels overruling the will of the American people.  Examples include the reversal of the Defense of Marriage Act and the Roe v. Wade legalization of abortion.
Wisconsin's Supreme Court had it's share of liberal judges, with three liberals out of seven Supreme Court Judges five years ago.
Some of the liberal Judges were spinning out of control, trying to smear one of the conservative Judges, Justice Prosser in an apparent effort to liberalize the Wisconsin Supreme Court.  Their attempts, if you believe the testimony of the majority of Justices who witnessed the event, included desperate measures such as assaulting a fellow Justice, involving the press, and then lying about what had happened.
The attempt to change that balance failed, and the conservative majority has since been strengthened in 2015 by Governor Walker's appointment of Rebecca Bradley, another conservative Judge.  Justice Rebecca Bradley is not to be confused with the other Justice Bradley, Ann Walsh Bradley, who was the source of the problems in 2011, and who was responsible for assaulting a fellow Judge and trying to cast him as the aggressor, despite the testimony of witnesses.  This led to a shocking game of Which Supreme Court Justice assaulted which Supreme Court Justice, and which one lied?
So let's make sure we get this straight:
Just so there's no confusion:
Supreme Court Justice Ann Walsh Bradley is the liberal Justice involved in the assault scandal in 2011.
Supreme Court Justice Rebecca Bradley is the conservative Justice running for reappointment now in 2016, agains two liberals.
Two Judges With the Same Name in the Wisconsin Supreme Court?
Yes, the Wisconsin Supreme Court now has two women Justices with the last name Bradley.
The newly appointed Justice Rebecca Bradley (conservative) is running in a primary tomorrow with two Democrats, JoAnne Kloppenberg and Martin Joseph Donald.
The two candidates who receive the highest number of votes for Bradley's seat in the February 16, 2016, primary will then face each other in the April general election. The winner will begin serving a 10-year term on the court.
If you care about the preservation of Christian morality and religious freedom for Christians in America, vote tomorrow for Justice Rebecca Bradley.
Vote for Justice Rebecca Bradley!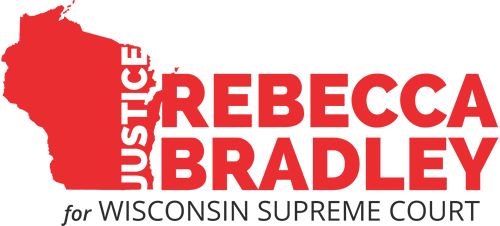 Why Rebecca Bradley is running (from her website):
After practicing law in the private sector for over 16 years, I answered a calling to public service as a Milwaukee County Circuit Court Judge in Children's Court, where I dedicated myself to strengthening families, protecting children in need, keeping the community safe, and treating all participants in the court system with dignity and respect. I then served as a Wisconsin Court of Appeals Judge, reviewing decisions made at the trial court level and writing opinions in all areas of the law. I am honored to bring over 19 years of experience in the legal and judicial professions to our State's highest court. Serving the people of Wisconsin as a member of the judiciary has been the most rewarding experience of my professional life, and I am grateful to those who expressed confidence in me with their support and votes. I humbly ask the voters of Wisconsin to retain me as their Wisconsin Supreme Court Justice.
I became a judge because I care deeply about Wisconsin and its many communities. I was born and raised in the city of Milwaukee. After my Dad lost his job in the 1980s recession, my family struggled like many Wisconsin families. But I was blessed with parents who instilled in their four children a strong work ethic, the importance of education, and the value of a strong family. My sisters are stay-at-home mothers. My brother is a public high school teacher. My family's experiences gave me a unique appreciation for the challenges faced by families all over our great state.
I am committed to the rule of law and applying the law fairly and impartially. When I proudly took the Oath of Office, I swore to support the Constitution of the United States and the Constitution of the State of Wisconsin. I understand my duty to apply the law as it is written and not as I may wish it to be. I have faithfully exercised this duty in hundreds of cases as a judge on the Milwaukee County Circuit Court, the Wisconsin Court of Appeals, and as a Justice on the Wisconsin Supreme Court. It is my honor and privilege to serve the citizens of Wisconsin.